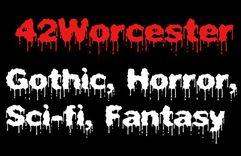 42 Worcester – A Birthday Cake to Remember
42Worcester is probably the only event of its type in the country. Founded in 2011 by Glenn James, it is a monthly spoken word night for writers and fans of Gothic Horror, SF, Fantasy and Alternative Genres. You never know what you might hear at 42!
From gritty urban nightmares to fantastical whimsy, by way of dystopian visions, creepy hauntings, futuristic imaginings, and mysterious goings-on in small villages, 42Worcester showcases the dark, the weird and the uncanny. Hosted by Worcester poet, writer and performer Suz Winspear, 42Worcester is an event that welcomes and supports writers at all stages of their careers, from published authors to absolute beginners.
This month's topic:
The very first 42Worcester took place on March 24th 2011, so we always celebrate our birthday in March – in a suitable creepy fashion, of course. Costumes are likely to be in evidence, along with strange stories and all sorts of weird shenanigans. Just watch out for the birthday cake – you never know what might be in it…