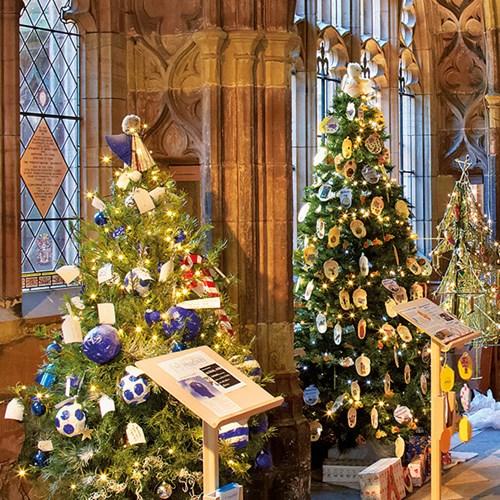 Christmas Tree Festival 2022
Applications to enter a tree in our glittering Christmas Tree Festival 2022 are NOW OPEN!!
If you are a school, business, charity, other organisation or individual, you can now apply to enter a tree by emailing our Visitor Experience Team at treefestival@worcestercathedral.org.uk 
The Prices to enter vary, and are as follows:
Company / Organisation / Group or Individual: £190 (inc VAT)
Registered Charity or School: £90 (inc VAT)
The festival will be open to visit from Wednesday 7 December 2022 until Sunday 8 January 2023 (excluding Christmas Day), during normal visiting hours (10am – 5pm Monday to Saturday and 1-3pm on Sundays).
Our Christmas Tree Festival is extremely popular and we attract many applications and visitors, so get those forms in quickly to avoid disappointment!
The sparkling Christmas trees are always innovatively and individually designed and decorated and are a wonderful sight to be enjoyed by all the family.  We look forward to welcoming you as part of Christmas 2022 at Worcester Cathedral.