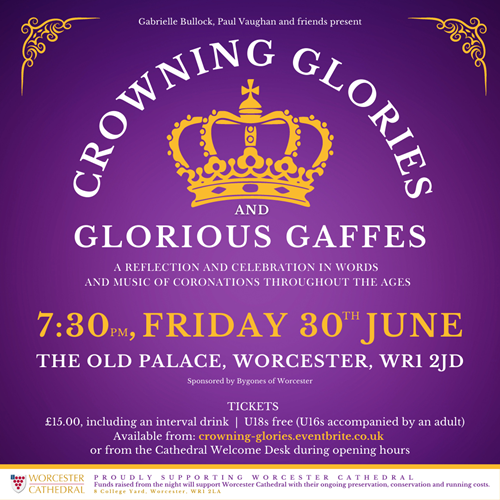 Crowning Glories and Glorious Gaffes
A reflection and celebration in words and music of coronations throughout the ages
The Old Palace, Worcester, WR1 2JD
We are delighted to announce a concert in support of Worcester Cathedral: join Gabrielle Bullock, Paul Vaughan and friends for an evening of entertainment, and a rare opportunity to see one of Worcester's own crown jewels; the historic Old Palace.
With music by Purcell and Elgar, and readings from Pepys to Private Eye, the night promises to be a right royal celebration of coronations throughout the ages.  Kindly sponsored by Bygones of Worcester.
Funds raised from the night will help Worcester Cathedral with ongoing preservation, conservation and running costs – thank you.
Prices
Adults: £15.00
Children: £0.00