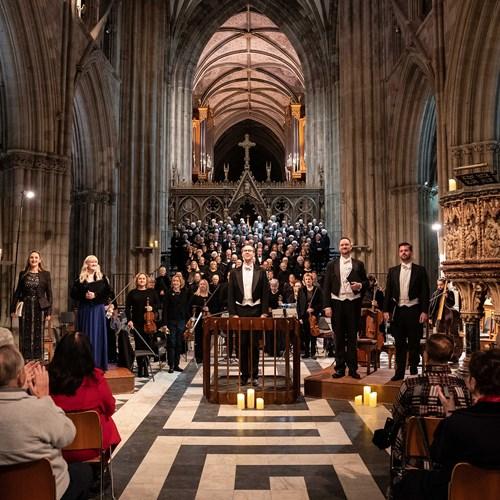 Elgar's The Dream of Gerontius by Worcester Festival Choral Society
Sir Edward Elgar's much-loved choral work, The Dream of Gerontius, is returning to Worcester Cathedral on Saturday 18 March at 7.30pm – sung by a 140-strong local choir that was close to the Worcestershire composer's heart.
The performance is being staged by Worcester Festival Choral Society, which, in the 1890s, was often conducted by Elgar and premiered two of his choral compositions.
Widely regarded as one of Elgar's finest, most thrilling masterpieces, The Dream of Gerontius is set to a poem by John Henry Newman about a dying man's soul journeying to the judgment throne, led by his guardian angel.
Worcester Festival Choral Society's voices depict friends, priests, demons and angels along the way. Joining the chorus are acclaimed soloists whose credentials include the Royal Opera House and English Touring Opera: mezzo-soprano Marta Fontanals-Simmons (Angel); tenor Mark Wilde (Gerontius); and bass-baritone Njabulo Madlala (Priest/Angel of the Agony). Accompanying is the Meridian Sinfonia symphony orchestra. The conductor is Worcester Cathedral's director of music, Samuel Hudson.
Ben Cooper, chairman of Worcester Festival Choral Society, said: "This is a wonderfully exciting, yet moving work that's a true experience from start to finish. It's the first time we'll have performed it in Worcester for 12 years, so not to be missed!"
Established in 1861, Worcester Festival Choral Society is the region's leading large classical choir, with auditioned singers drawn from across the region. The Society stages three major performances of 'the choral greats' in Worcester Cathedral each year. A 'Come & Sing' one-day choral workshop, open to all singers, is also held in spring.
Tickets from www.wfcs.online or TicketSource: 0333 666 3366.