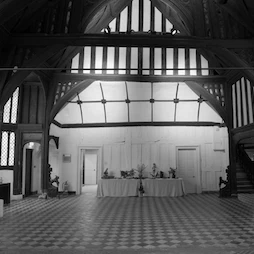 Ghost Hunt at the Commandery
This special evening Ghost Hunt is suitable for those who have early Sunday morning commitments or those who wish to go for something to eat or drink afterwards.
We know very little about the early history of the Commandery. Tradition has it that the building was founded as a hospital around 1085 by Saint Wulfstan, then Bishop of Worcester. However the hospital was built around a much earlier Saxon chapel dedicated to Saint Gudwal – which was located to the North of the present building
The building attributed to Saint Wulfstan was a monastic institution designed to act as a hospital. It seems to have been established with the needs of travellers in mind. Its location, just outside the city walls beside the Sidbury gate, put it at the junction of the main roads from London, Bath and Bristol.
After serving its original function for nearly 500 years, the hospital was among the last monastic institutions to be dissolved by Henry VIII in 1540. From this date onwards the Commandery was to fulfil a number of vastly varied roles that would see it the focus of national events during the Civil War.
Most famously, The Commandery was Charles II headquarters in 1651 during the Battle of Worcester and it was to be the last battle of the Civil War that split England. During the battle, the Duke of Hamilton , was the Royalist Commander in Chief a commander of Charles II's troop died of wounds suffered in the final stages of the conflict and his body along with the cavaliers he fought with were laid out in the Commandery. The Commandery has had a long and varied history and it's believed some of the previous inhabitants are still haunting this huge building!
Minimum age: 18
Entry price (public): £35 (Additional fees may apply)