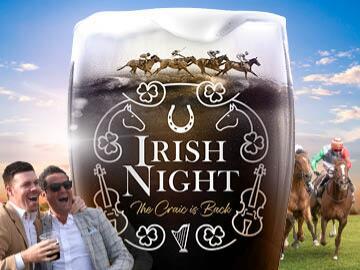 Irish Racenight
Super Irish Racenight!
Join us for a thrilling day of Jump racing, Irish fun and live music and enjoy all the action that our Irish night has to offer!
Live Music 
Savour the Irish mood with the live music during and after racing and join us for a day of fun and Irish craic not to be missed. Get your best dancing shoes on- why not try and do some quadrilles, reels and jigs to traditional Irish music! This is certainly a raceday not to miss.
They'll of course also be great racing on the track for you to enjoy; offering you the chance to experience the thrilling atmosphere of the crowd collectively cheering their favorite's down the home straight and to victory