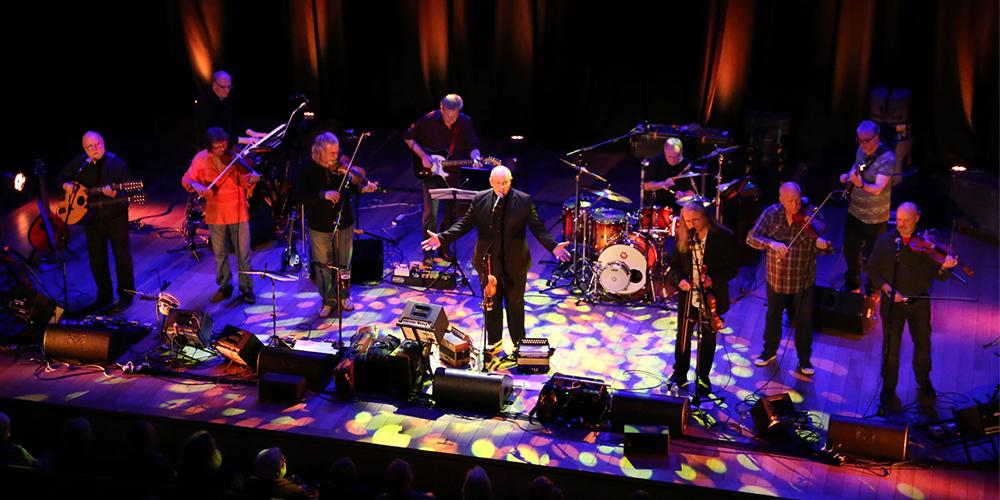 The Feast of Fiddles
The Feast of Fiddles set out on their Spring Tour once again in 2023 following a very successful return to the road last year post pandemic restrictions. Born in Nettlebed on Valentine's Day 1994 as a one-off special concert, Feast of Fiddles has done 27 spring tours, 25 festivals and has 7 CDs to its name. Not bad for a bunch of old folk-rockers!  This is a band of friends that puts on a show of huge dynamic range performed with passion, joy and a liberal dose of fun.
Chris Leslie is taking time out in 2023 to get back to fiddle making so following her debut in 2022 as a full member of the band Marion Fleetwood has now become permanent! She joins fiddlers Peter Knight (Gigspanner, Steeleye Span), Brian McNeill (Battlefield Band), Ian Cutler (Bully Wee), Tom Leary (Joe Brown) and Garry Blakeley (Band of Two) who add the large range of fiddle playing styles to the rock back-line of guitars, keyboards, sax and accordion – all held together by legendary drummer Dave Mattacks. A live music entertainment like no other on the circuit which is guaranteed to be enjoyed by even the most doubting of friends dragged along!
Thursday 23rd March, Huntingdon Hall, Deansway, Worcester, WR1 2ES.  Doors: 19:00. Tickets: £27.00. Box Office: 01905 611427