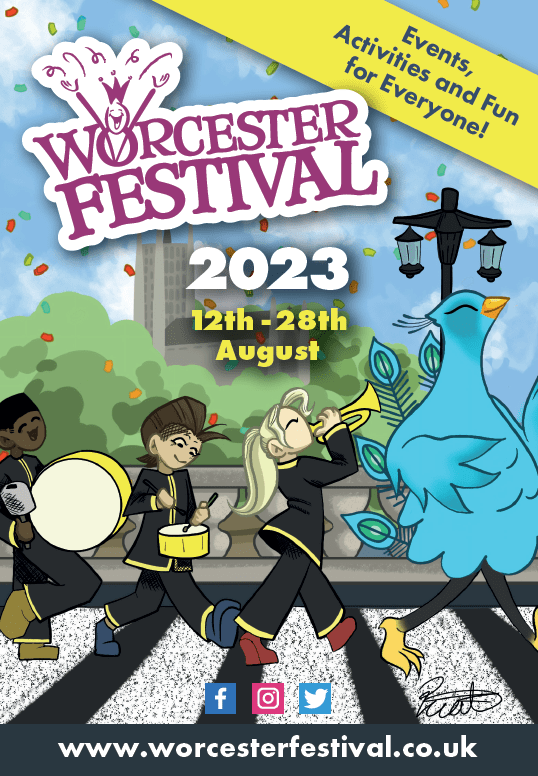 Worcester Festival 2023!
This year's Worcester Festival runs between the 12th and 28th August. There are over 700 events for the public to enjoy including a large number of free family events.
All of the usual favourites are back again this year including Gugge 2000, Funky Faces Face Painters, Sauce City Jazz Band, Someone at the Door Samba Band, Colouring Competitions, Teddy Bears Picnic, Worcester Festival and Black Pear Joggers 5k and 2k Fun Run and so much more!
Lots of fabulous organisations are also involved including, Worcester Cathedral, The Commandery, Pershore Plum Festival, Worcester City Art Gallery and Museum, Tudor House Museum, The Worcester Show, The Fold, National Trust Properties: Croome, Greyfriars and The Firs, Museum of Royal Worcester, St Martins Church, The Hive and lots more.
The Worcester Festival Food and Drink guide will return this year with lots of special offers and delicious treats available from fabulous local hospitality businesses.
This year's Worcester Festival is jam packed with things to do! Look out for our special feature of how to do enjoy the Festival for just £64 for a family of 4, that's 17 days of fun for the whole family, with over 700 events, there is something for everyone. You can pick up your copy of the event guide in early July so you can plan which events you want to attend!