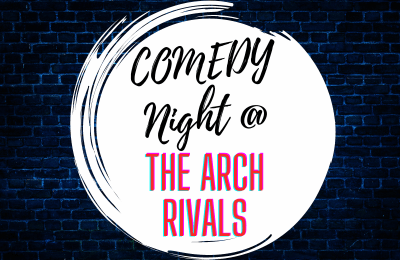 Comedy Night @ The Arch Rivals – Worcester Fringe
The Arch Rivals presents a brilliant night of stand up at Arch 38 – don't miss this fantastic line up!
Yorkshire Spider-Man 
Join Spiderman (Yorkshires Premiere Number 1 Superhero) as he regails you with stories of his life in Rotherham!
Gareth Williams
This much sass cannot be contained in one man. Which is why it erupts fantastically on stage for Gareth Williams, a natural performer and host of Birminghams only LGBTQ+ comedy night, Queer as joke.
Vlad
Hailing from Transylvania, this brilliantly surreal act will have you thinking he's slipped something into your blood…
Phil Jerky
Witty, crude, and irreverent, Phil Jerky shares the more ridiculous side of living with a disability, and the odd knob gag.
Neal Cantillion
A wild and wacky Gloucester Comic who navigates his way through life and adversity with the same success as Stevie Wonder doing a Rubix Cube.
Dave Flynn
All MCed by resident MC and Worcester's most famous moustache – the wild, the incredible Dave Flynn.
Please note: This event is being held at – Arch 38, Netherton Ct, Worcester WR1 3AU