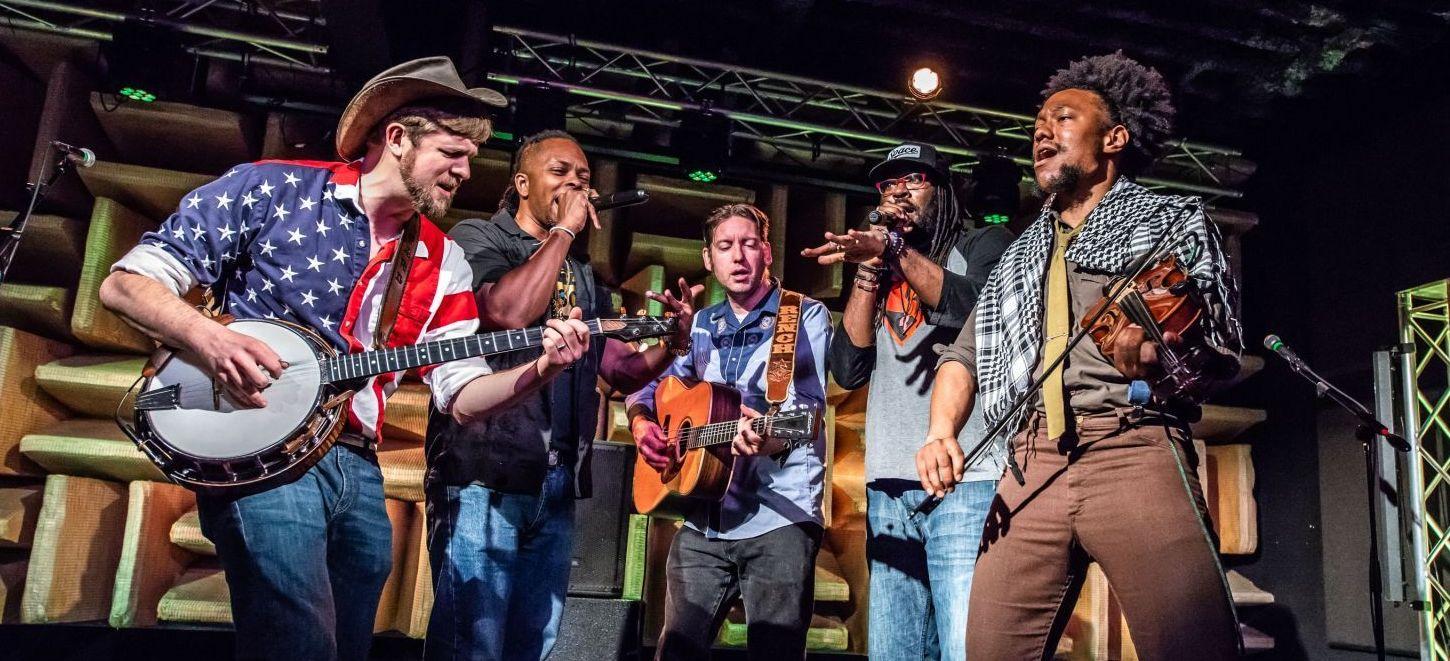 Gangstagrass – Worcester Fringe
Best known as the Emmy-nominated makers of "Long Hard Times to Come," the theme song to the hit FX drama, Justified, and America's Got Talent Quarter Finals.
Gangstagrass has toured internationally, blowing minds on main stages from SXSW to Grey Fox Bluegrass Festival to The Long Road and Shambala Festival. The live stage act takes full advantage of the improvisational aspects of both hip-hop and bluegrass. With two emcees R-Son and Dolio The Sleuth trading verses, Dan Whitener on Banjo, Landry McMeans on dobro, and Rench on guitar, and frequent 3 part harmonies, the Gangstagrass live show has garnered a reputation among fans for its dynamism and spontaneity!
Their 2020 offering, No Time for Enemies reached #1 on the Billboard Bluegrass Chart for its original Emmy-nominated blend of bluegrass/hip-hop and frequent three-part and four-part harmonies, alongside performed real hip-hop MCs and real bluegrass instrumentalists. The album features "Nickel and Dime Blues," the inspirational "Freedom," the jump-starting "Aint No Crime," and the hugely popular "Ride With You" – has more than a million streams/views so far. No Time for Enemies takes you for a ride through the hoods and hollers while having a sweat of a good time.
"No Time for Enemies" is the follow-up to 2018 live album "Pocket Full of Fire" and 2015's critically-acclaimed studio album "American Music" —both of which also spent many weeks in the Billboard bluegrass top 10. Produced by lead singer/guitarist Rench — who Rolling Stone Magazine named "10 New Country Artists You Need to Know: April 2017" — "No Time For Enemies" contains 11 cuts of both original and traditional music with a twist. As the late Elmore Leonard put it "Rench and his friends have done nothing short of creating a new form of music."