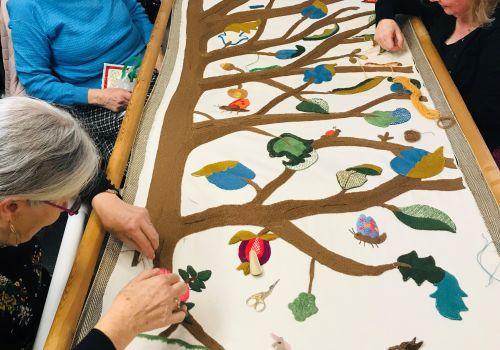 Heritage Open Days – Tudor House Museum
Come and see our Bedfellows project. We are creating curtains and a coverlet for our tester bed which feature traditional stitching techniques and designs. See our embroiderers working in the bedchamber and learn more about the project.
The Bedfellows project aims to create curtains and coverlet to dress the bed in our bedchamber. The themes of the design are Tudor inspired and the stitches the embroiderers use, are authentically 16th century. The design of the curtains is inspired by nature and the coverlet incorporates motifs inspired by Tudor House and 16th century Worcester. You will be able to see our Bedfellows volunteers stitching in the bedchamber and discover more about this project, and textiles in Tudor England.
Saturday 9 September: 1000-1600
Booking Details
No booking required