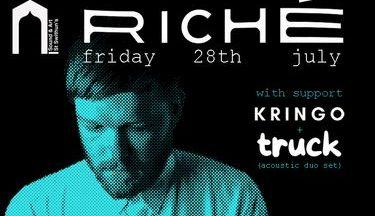 Riché w/support Kringo + Truck (Acoustic Duo Set)
Riche
If you hitched a fingerpicking indie-folk getaway ride from the stolen Motown voice vault then you might be on the right road to Riche's dusty corduroy soul sound. After a decade of performing and recording with various outfits he was compelled to take electronic beats, textures and layers from his lo-fi studio productions and extend them into his traditional songwriting to push the envelope.
Kringo
Kringo Blue is a British singer, songwriter and live solo musician with a voice and sound that extends over various genres.
Starting off as a drummer in the early 2000s, he's now described as a soul indie folker with intricate guitar wizardry and reggae and Americana influences. His music has rhythmically inherent attributes brought forward in his guitar playing.
Having jumped genres from Rock to established Hip Hop outfit CaseClosed, Kringo found himself supporting the likes of uncle festa, Goldie Looking Chain, Devlin, and Example to name a few. This allowed the band to travel and explore new musical adventures.
Truck (Stripped-down acoustic duo set)
Taking influence from pretty much every arm of the alternative music of the 1990's, Truck brings together all of those references to offer up a refreshing take on the music of those times. Big hooks, a load of harmonies, and a bloody good time all round.