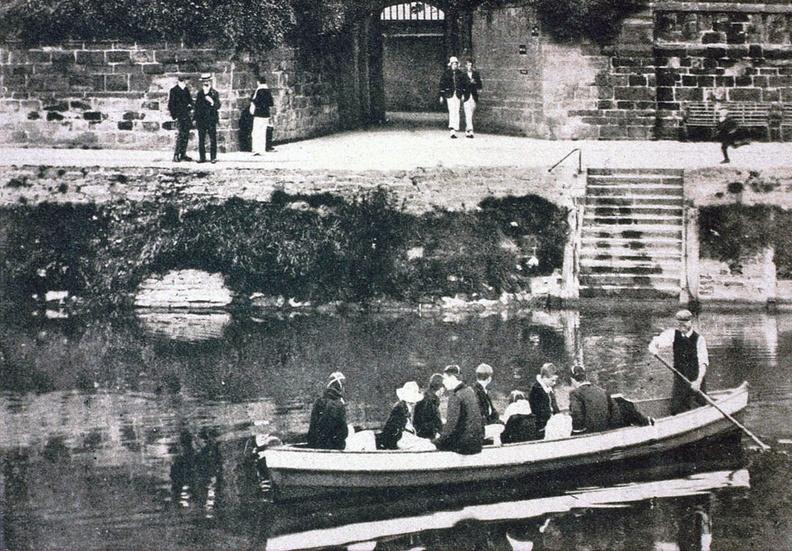 The Cathedral Ferry
Take a Trip on the Cathedral Ferry – Be Rowed Across the River as People Have for 600 Years – Enjoy a Unique View of the Cathedral from the River
Running Sundays and Bank Holidays Throughout the Summer
The Cathedral or Priory Ferry, running across the River Severn from the Cathedral Watergate to Paynes Meadows has been recorded as running since the 12th Century ferrying monks and milkmaids across the river to work in the meadows and the Priory of Hardwick in St Johns. However historians believe that a river crossing has been at the precise location for around 4000 years.
The Watergate itself was built in 1378 because of the existence of the ferry, creating a convenient embarkation point for the boatmen and travellers, while still guarding the City from river attack. At the dissolution of the Priory in 1540, the ferry and the Severn meadows passed into the hands of the Dean and Chapter of the Cathedral.
As a fundamental part of Worcester's history and development, the Cathedral Ferry was clearly recognised as important and, since 1378, the names of all the successive ferrymen running it are recorded in the Cathedral archive. The ferry service finished around the end of the 1950's after over 600 years of continuous operation.
In 1983 a group of volunteers led by Mark Glossop and Eddie Rogers, decided to re-launch the Cathedral Ferry unearthing the original steps and handrails on the west side of the river and a boat, renamed Doris, was purchased. Now run to raise money for Worcester charities the ferry has donated a total of £20,000 to organisations including Acorns, Maggs Day Centre, St Richards Hospice, Swan Rescue and many more.
Charging 50p per person (dogs travel free) the ferry runs on Sundays and Bank Holidays from Easter throughout the summer each year, with a trip across the river on the ferry being a great way to see a unique view of the cathedral and be a part of Worcester's long river heritage.
So come and take a trip with us this Summer!
Become a Ferryman. The Ferry team are always looking for new volunteers to 'take to the oars', its fun, good exercise and you meet all sorts of interesting people. The team will give you all the training you need. Come down for a trip across and talk to us.
'Image supplied courtesy of the Changing Face of Worcester project'