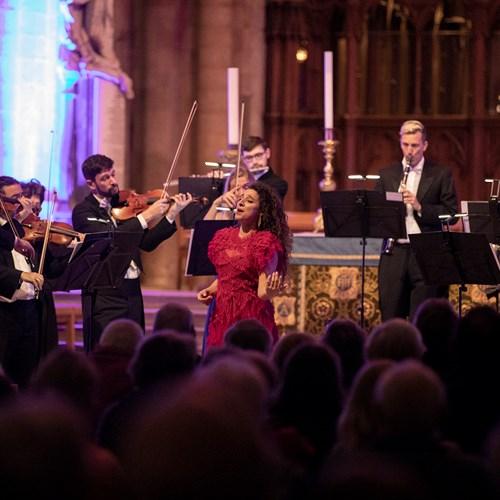 A Night at the Opera
London Concertante present a sensational evening at the opera with an array of the finest opera arias and overtures, including works from Puccini, Verdi, Rossini, and Mozart – some of the best from Madame Butterfly, Turandot, Tosca, The Barber of Seville, Carmen, Cosi fan Tutti and so much more. Presented by Candlelight with some of the country's greatest opera singers, this truly is an evening not to be missed.
The UK based chamber orchestra, London Concertante, regularly perform more than one hundred concerts per year, making it the busiest ensemble of its kind in the country. Regularly selling out venues such as St. Martin-in-the-Fields and Southwark Cathedral, the ensemble performs in some of the most prestigious venues around Britain and abroad, with recent tours taking them to USA, Finland, Germany, Holland, Ireland, Spain and France. With their numerous recordings reaching great critical acclaim, the ensemble is continually regarded as one of the finest groups in Europe since their founding in 1991.
If you don't consider yourself 'in the know' about Mozart, Beethoven, or Bach, fear not, this is the orchestra for you. The London Concertante boasts an impressive audience record in which an impressive 50% of spectators are first time classical concert goers! The London Concertante has its audience laughing at jokes, gasping at virtuosity, moved by gorgeous string playing, and leaving with a smile on their faces.
PRORGRAMME
Puccini – "Nessun Dorma" from Turandot
Delibes – "Flower Duet" from Lakme
Mozart – Marriage of Figaro overture
Puccini – "O Mio babbino caro" from Gianni Schicchi
Rossini – William Tell Overture
Verdi – "La donna e mobile" from Rigoletto
Bizet – Toreador Song from Carmen
Puccini – "Un Bel Di Vedremo" from Madame Butterfly
Puccini – "E lucevan le stelle" from Tosca
and many, many more!
Doors open at 6.45pm.
Prices
Adults: £21.08
Adults: £31.86
Adults: £41.55
Adults: £48.02