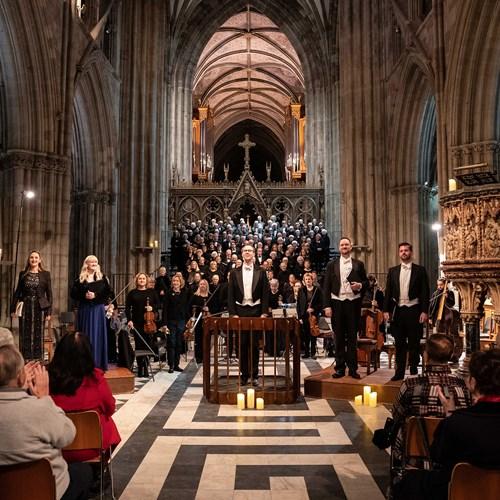 Brahms – Ein Deutsches Requiem by Worcester Festival Choral Society
This autumn, we're delighted to welcome the 140 voices of Worcester Festival Choral Society to bring one of the most beautiful and inspirational of all choral masterpieces to the majestic surroundings of Worcester Cathedral: Brahms's intensely moving Ein Deutsches Requiem (A German Requiem). Paired with this choral favourite is Wagner's much-loved orchestral piece, Siegfried Idyll.
Performed with internationally acclaimed soprano Rebecca Hardwick and baritone Julien Van Mellaerts, and accompanied by the superb Meridian Sinfonia orchestra, the performance will be conducted by Worcester Cathedral's charismatic director of music, Samuel Hudson.
Join us to enjoy this wonderful music in grand choral and orchestral style!
Soloists:
REBECCA HARDWICK – Soprano
JULIEN VAN MELLAERTS – Baritone
Prices
Adults: £15.00
Adults: £22.00
Adults: £27.00