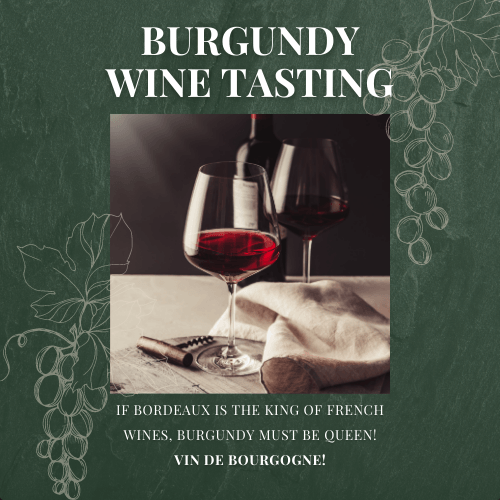 Burgundy Wine Tasting
Attention all wine enthusiasts and wine royalty, it's time to crown the Queens of French Wine – the exquisite wines from Burgundy! Lead by long-term friend to Bottles and experienced Burgundy scholar, the incomparable Kevin Sambrook, join us for a fabulous wine tasting soirée, where we'll sip, swirl, and savour our way through the enchanting realm of Bourgogne treasures.
Having worked there in his youth (although he still gets away with looking 35 years old now), Kevin was one of the first and only UK wine experts and educators to be made a 'Knight of the Macon' for his services to the wine trade in the area.
Burgundy may be small in size relatively speaking to Bordeaux, but its influence is immense in the world of wine. The complexity and variety of Burgundy can spook even experienced wine boffs, but never fear– it doesn't have to be complicated and otherworldly, if approached in a positive and easy to understand manner. While it is home to some of the most prized wines on earth, there are also tasty and affordable wines. From the silky Pinot Noirs that dance on your palate to the vivacious Chardonnays that tickle your taste buds, each bottle is a testament to Burgundy's regal charm.
8 different Burgundian wines (Sparkling, whites and reds), paired with some 'délicieux nourriture', sharing boards with french meats, cheeses and pickles to accompany them.
Terms and Conditions apply, see event page on website for full details.