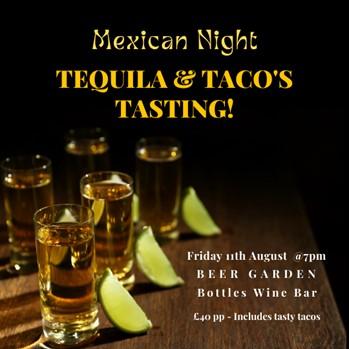 Tequila & Taco's Tasting
Arriba!
Join us at Bottles for a journey through Jalisco; with a range of selected drinks to sample, each paired with a unique dish provided by Chester's Mexican restaurant. Explore the world of agave-based spirits, and discover true quality Tequila and Mezcal.
Agave has a rich history, once a holy plant for the Aztecs, it has since come to be used as the base of one of the most famous and loved spirits in the world!
Often misunderstood, and sometimes difficult to decipher, Tequila is every bit as legitimate and complex as fine Cognac or Scotch.
So come with us on a mission to find the best, and learn industry tricks to identifying the good the bad and the ugly of Mexico's national drink!
Cocktail on arrival, Olé!
Tickets £40:00